Kim Potter was an ex-police officer from Minnesota who fatally shot Daunte, a Black motorist in Minnesota, at a traffic stop on April 11. This is a case which has added to public outrage about police brutality.
Potter is charged first- and second-degree manslaughter in Wright's death. Prosecutors on WednesdayWright's life was ended when the state argued that Wright had died because he didn't know how to prevent the fatal mix-up of a Taser gun and a gun. It is unclear whether Potter deliberately killed Wright, but the state insists that she did not ignore her training in dealing with Wright's unarmed 20 year-old.
Potter's lawyer, Paul Engh, argued that she had simply made a mistake but that she would have been justified in shooting Wright even if she had intentionally drawn her gun because the Black man could have posed a threat. Engh took responsibility for Wright's death and did not include Wright. complying with the police.
"All Mr. Wright had to do was stop. His arrest warrant was given to him. He resisted, she said, 'I'll Tase you,' and all he had to do was surrender. That wasn't his plan. … All he had to do was stop and he'd be with us."
Erin Eldridge, the prosecutor for Wright's case, stressed that Wright wasn't armed when he was killed by Potter.
"He had no weapon. He wasn't violent. He did not threaten the officers in any way," she told jurors. "He didn't reach for anything, he got in the car, put his hands on the steering wheel, didn't come at the officers, didn't throw any punches, didn't kick anyone."
The jury saw police body camera footage as well as the squad car's dashboard video showing Potter threatening to shock WrightHer trainee Officer Anthony Luckey attempted to remove the man with a Taser. Police initially pulled Wright and a female passenger over for having an air freshener hanging on the car's rearview mirror and for expired registration tags after Luckey said he was suspicious that the vehicle had its turn signal on for the wrong direction.
The officers tried to arrest Wright after discovering that Wright still had a warrant on his record for a charge of gross misdemeanor arms. He initially cooperated, but he then got back into his vehicle. Officers then escalated the use of force and Potter yelled "Taser!" before firing her gun at Wright's chest. The officer escalated the force and Potter yelled "Taser!" before firing her gun at Wright's chest. The car, with Wright wounded and still in the driver's seat, drove away and then crashed into another car.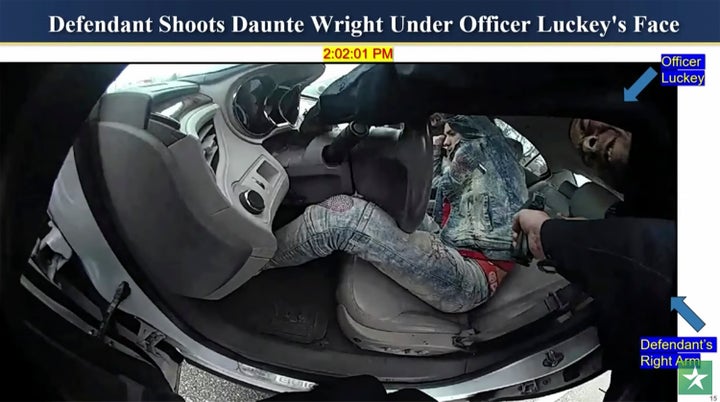 "She was trained not to use unnecessary force. She wasn't trained to shoot unarmed drivers. She was trained not to fire into a vehicle, and she was also trained not to use her Taser on a fleeing suspect," Eldridge said. "And she was trained to be aware of the differences between her gun and her Taser. She was taught about the dangers of using the wrong weapon, and how drawing or firing the wrong weapon can cause death.
"Now, this was exactly what she had been trained for years to prevent. But on April 11, she betrayed her badge, and she failed Daunte Wright."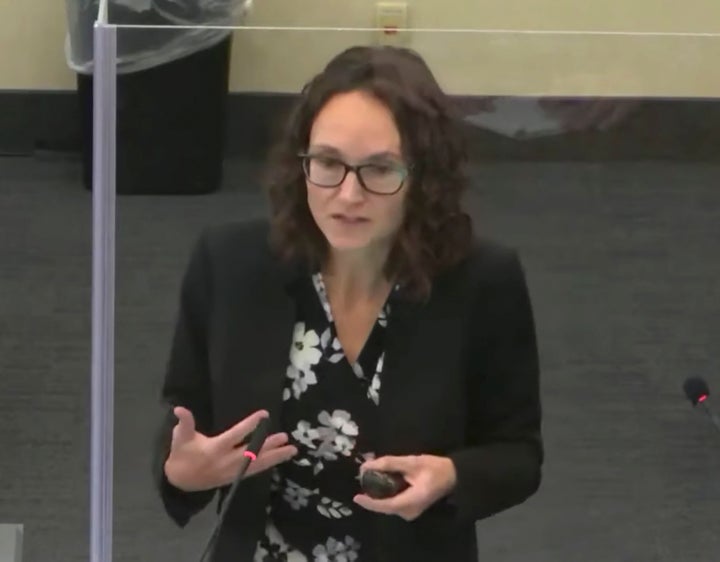 The jury also heard from two of the state's witnesses: Wright's mother, Katie Bryant, and Luckey. Bryant testified that she was watching Wright's son, Daunte Jr., and saw her son that afternoon when he asked for money so he could get a car wash. The car was registered in his brother's name, but Wright had bought it from him two weeks before he died.
Wright called his mother just 10 minutes after departing to request which carwash to use. He then called 10 minutes later, to tell her that Wright had been stopped for using air freshener. Bryant claimed that Wright called his mother to ask for help with car insurance. However, Wright was eventually told by an officer to get out of her vehicle.
Bryant said she heard Wright's phone being put down and an officer saying, "Don't run," while Wright responded, "No, I'm not." The phone allegedly disconnected at that point, and after several attempts to call back, Bryant tried to FaceTime her son. She said a woman answered the video call and revealed that police had shot Wright, showing his body in the driver's seat. Bryant then found out from police the location of Wright's car and arrived at the scene, where she saw her son's body on the ground.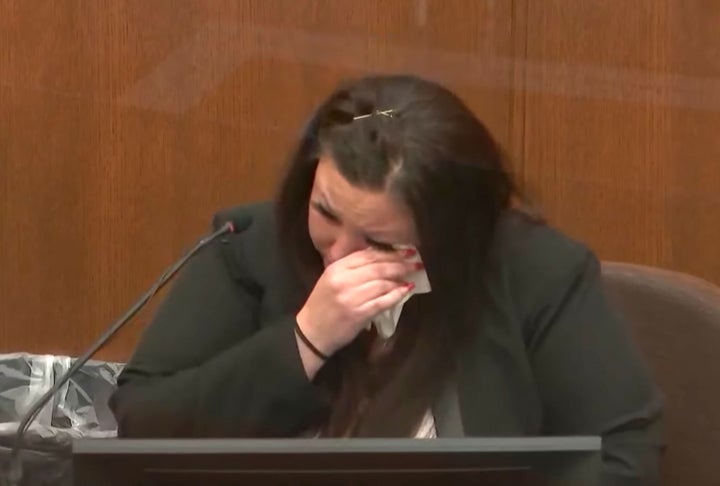 Luckey was the officer who approached Wright. He had joined the department in February. The officer testified he began following Wright's car based on "intuition," which he later said was based on the area's crime rate. Wright told Luckey he didn't have a license, that he was looking for the insurance and that he is working on getting up-to-date tags now that the car was his, he testified.
According to the officer, he had been reaching for the car at the time of the gunshot. He then jumped back and saw Wright putting the car into drive. Luckey stated that he was able to see Wright's hands and knew that the gunfire didn't come from Wright. Wright said that Wright did not appear to reach for any guns, and that he had never attempted to punch the officer. He was also respectful of his fellow officers and was not aggressive when pulled over. Wright said he believed Wright and claimed that the female passenger was not in any distress.
"Officer Luckey was her trainee and she was the [trainer]. So she was the one who determined how the stop would go," Eldridge said of Potter. "She was the 26-year veteran. It was her job to be the officer in chief. And it was her job to show Officer Luckey how it's done. What did she teach him? She showed him how to kill someone."
Prosecutors must prove recklessness to the more severe charge against Potter. For the lesser charges, it is necessary to prove culpable neglect.
Share Your Comment Below