In 2017, I was the first to notice an issue. As an analyst in their accounting department, I worked for large electronics companies. I noticed that my regular job tasks, such as using a computer program every week or sending wrong numbers to managers, were not easy for me. It was not common for me to experience this.
It was stress due to large projects we were involved in. My boss thought it would get better. But we were mistaken!
A seizure happened to me in May 2018 and doctors performed many tests to identify the source. That's when I was given a diagnosis of normal pressure hydrocephalus, which is where the fluid from the brain that normally drains to your bladder doesn't drain anymore. The brain is under pressure, which in my case meant that my speech and limb function were affected and I suffered terrible headaches.
Also, early onset dementia was diagnosed in me. A diagnosis of early-onset dementia refers to any type of dementia diagnosed prior to the age 65. My diagnosis came at the age of 57. Although there are many possible causes for this condition, the two most prevalent are genetics as well as traumatic brain injury.
Both. This was diagnosed in my maternal grandmother, and her entire family. My injury was caused by a rollover in the U.S. Army.
My biggest complaint was that when I was given the diagnosis, the neurologist simply said, "Here is what's wrong, I'm starting you on this medication, stop at the desk on your way out to schedule your next appointment." No suggestions for help, no brochures or directions as to where to get resources.
Since my grandmother had been with me for six years, before she was placed in skilled nursing facilities, I knew what to expect. At the time of writing this, it is terminal. There is no cure. You can take medication to help you. They do improve your ability to think clearly. It was almost like a lightbulb going on when I first started to take them. However, most medications won't work until the very beginning stages of the disease. I am aware that their benefits can be limited.
After learning what happened to me with my grandmother, it was clear that I had gone through three weeks worth of self-pity parties. It was a question of why. You know what I heard from my wife? "Why not you?" She told me to "suck it up, buttercup" and live my life.
My employer let me work another nine months, until I was unable to function. I was forced to take my disability pension. I was devastated. I felt helpless and worried about not being able provide the same level of care that I used to. I wasn't sure how we would be able to survive and pay our bills. However, I received disability very quickly. With the support of my family, we were able to survive.
It wasn't long before I had to quit driving. This was the most difficult part. I'm from the South and, traditionally, the guy drives the car. I always looked at the people going down the road where the guy was in the passenger's seat and thought, "He must have lost his license. What a sorry sap."
Well, now I'm that sorry sap sitting in the passenger seat.
But it isn't only that. Many of the same tasks that I once did have to be done by my wife. My passion is cooking. Actually, baking is what I really love. The stove is not permitted near me anymore. When I made a grilled cheese sandwich the last time, smoke detectors went off all throughout the house.
Things are easy to forget. I can be told something very simple, and an hour later I can't remember anything about it. People I've known for many years are people I can't tell you the names of or how they know me. To the point where I fear going out into public and being in large crowds, I have reached a stage in my life that makes it difficult to leave home. Not only do I fear embarrassing myself but my spouse as well.
That is one thing that I like about the groups that I participate in through the Alzheimer's Association and with our adaptive sports programs. My diagnosis is known and they don't judge me if I try something crazy. It's easy for me to be my own person around them, without having anyone judging.
I get frustrated that this has put so much on my wife unfairly, but she assures me she doesn't mind. She drives me anywhere that I need to go and helps me with any personal tasks I can't manage. Sometime I lose my ability to use my knife or fork to cut the meat. It can be confusing to me when there are so many options on a menu. She looks at the list and calls out which ones I enjoy.
There are a lot of things that will be added to my wife's plate as this disease progresses. I've been told and have seen through my grandmother and others that my memory will decline and that I will have a harder time focusing. I may require a home health care nurse at first but then I will need to be sent to a "memory care" unit in a skilled nursing facility. These people are taught how to care for people with cognitive impairments.
It may lift some of my wife's physical pain, although it is unlikely that it will make any difference emotionally.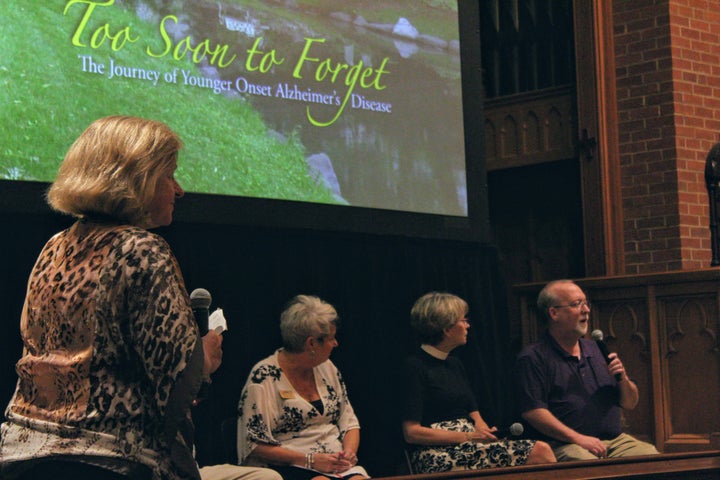 For now though, I have many other things I can do. I love to watch the TV show "Jeopardy!" I'm not able to answer all the categories, especially Shakespeare. There are many categories that I am able to answer, even though they may not be the best. The Daily Double and Final Jeopardy are my best bets. My wife is baffled at how one minute I can't remember how to answer a basic question, but I can recall this information. I am also great at "Wheel of Fortune."
With more free time, I've taken up new hobbies now that I'm home. When I was a little girl, I used to love writing stories and poetry. Many times teachers displayed my pieces. Life gets in the way, and I put writing to the wayside, but now I've returned to it.
My passion for cycling is a long-standing one. I currently own a Cannondale Caad8 Tiagra bike. I was able to ride 40-60 miles per hour. The bike is no longer available to me, so I now ride a tadpole, which is a tricycle that sits very low on the ground. Every month, I get to go on the local rail trail with disabled veterans.
I now do adaptive archery. Prior to March this year I hadn't held a bow. Now, I'm training to hopefully compete in Paralympic events. All of this wouldn't have occurred without my diagnosis.
Although this disease is not without its difficulties, it has also brought me many positive things. In June 2019, I was elected to serve on the early stage advisory group for the national Alzheimer's Association. Now I'm an alumni member.
I had the opportunity to tell my story in several regional and national publications. People from across America wrote me to their stories. My experience with the disease has allowed me to speak to medical students and share my story. My story is also shared on social media, and online through publications like this. It is a feeling of accomplishment to know I have made a positive difference in the lives of people living with this disease as well as their caregivers.
All of this is to support the more than 6 million Americans and 55 million others around the globe who have any type of dementia. My biggest piece of advice is: Please don't stop living. Although you might need to make adjustments, there are still plenty of things you can do.
It will be difficult. However, it should be difficult. According to my diagnosis, the average age of a person with a similar condition is 18 years. However, I believe I can live much longer. Mindset is a key factor in the success of this illness.
Take advantage of the time that you do have. Do what you've always wanted but didn't have the time. You can keep going with your life and inspire others.
Do you have a compelling personal story you'd like to see published on HuffPost? Find out what we're looking for here send us a pitchIt's possible!
Share Your Comment Below