On Day Four of the trial of Ahmaud Arbery's accused killers, prosecutors played 911 calls Gregory and Travis McMichael made in the months before the Feb. 23, 2020, fatal shooting in Brunswick, Georgia.
Cara Richardson (a Glynn County 911 center operations coordinator) took to the witness stand Wednesday. Richardson recalled the McMichaels' accusations made in phone calls back in July 2019.
Though the men don't name Arbery, the descriptions they give fit the man they later gunned down, and the defense has pointed to the calls as evidence that the McMichaels were merely trying to enact a "citizen arrest" on a suspected thief.
Gregory McMichael, his son, Travis, and William "Roddie" Bryan, a resident who followed the McMichaels and filmed the shooting, are facing charges of malice murder, felony murder, aggravated assault, kidnapping and criminal attempt to commit false imprisonment, as well as federal hate crime charges. The killing took place in Glynn county.
Gregory McMichael, who was driving a truck at the time of the shooting and called 911 to report the incident, is the first recording that prosecutors made.
"There is a Black male, running down the street," McMichael says frantically. McMichael interrupts the call operator and asks him where they are located in Satilla Shores.
"I don't know what street we're on," the elder McMichael replies. He's then heard shouting at Arbery: "Stop right there, damn it! Stop!"
McMichael shouts as operator attempts to pinpoint his exact location. "Hello? Sir, how are you? Sir, where are you at?" asks the operator.
Richardson informed Linda Dunikoski, the lead state prosecutor that McMichael didn't respond.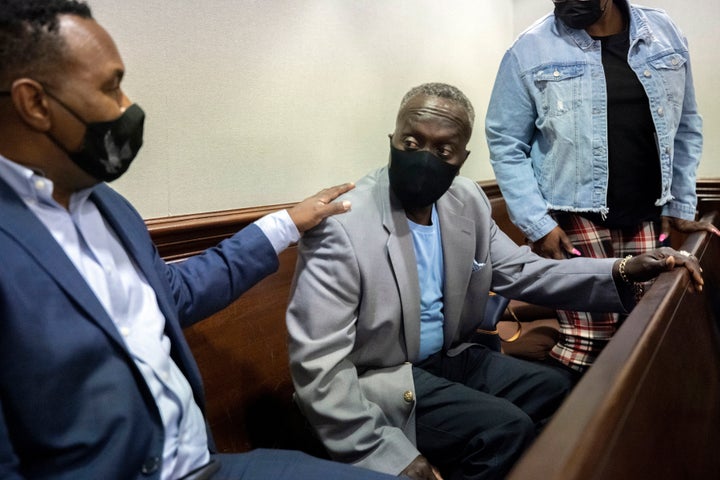 Dunikoski then played an earlier call, from July 13, 2019, in which McMichael identifies himself as a retired chief investigator for the district attorney's office and asks to speak with a supervisor. He provides his contact number and home address, and tells the operator there have been several "break-ins" in the neighborhood.
"We got a lot of break-ins in this area, automobile break-ins. And my son and I just discovered a guy," Gregory McMichael says, referring to Travis McMichael. "We think he may be living under Bluff Creek bridge. We just made contact with him, a real shady looking fella and a possibility he may be the one that has been breaking into all of these automobiles around here."
Travis McMichael, a January 1, 2020 caller, reported that a gun had been taken from his truck. "I need a police officer, I need to report a stolen pistol," he says.
On Feb. 11, just 12 days before Arbery's killing, Travis McMichael told a 911 operator that he had been sitting in his house watching a home construction site across the street when he spotted a man. There had been a "string of robberies" in the neighborhood, he said, and hevdescribed the man as a "Black male in a red T-shirt and white shorts," about "6 foot" tall.
"When I turned around, he took off running into the house," Travis McMichael said, adding that the man reached into his pocket, but he did not know if the man was armed. He advised emergency services to be "mindful" of that and left a contact number.
During the same call, Travis McMichael said he and several other neighbors were in the area and that the man tried to "sneak behind a bush." He then noted that his gun had been stolen on Jan. 1 and that he had never seen the man in the neighborhood before.
Arbery's death sparked months of national outrage and protests throughout major cities in 2020. On Thursday, the trial will resume. The prosecution is expected to keep calling witnesses.
Share Your Comment Below