My dad loves to recount a quote from my grandfather about growing up in rural Kentucky. In these parts, if an emergency hits, you don't call the sheriff or 911; you call the coroner. Although it may seem dramatic, the fact is you must be independent and resourceful in order to live in this country.
A tornado blew my family half a mile on December 11. It was part a deadly storm system, tied for worst in Kentucky's history. Already, the night of storm seems blurry and far away. While I try to find details I realize it was a decade ago and not just eight days ago.
My husband is native to Alabama. He's used to dealing with severe weather. His habitual behavior was to snore during storms or tornado warnings. This one was special, he knew. He sensed something in December. He shook me at midnight instructing me to "get the kids and get in the closet. The storm is about to hit." We crouched over our 3- and 6-year-old, creating a human barrier between us and the supercell monster with its 100 MPH winds lurking outside.
Listeners at Taylor Road, five minutes away from our homestead in Nashville were instructed by Lisa Spencer (a Nashville TV station meteorologist) to seek cover. My husband looked at me and said, "That's us. It's about to hit us."
Tornado warnings are common in western Kentucky and middle Tennessee. According to the reports we may not be able to shelter every single time. A meteorologist can pinpoint the exact location of a tornado down to a street. This means that the tornado is very real, traceable and headed straight towards us. At the moment, we did what was necessary: we waited for the storm's passing.
Our neighbors waited while we waited to see what would happen. One neighbor's horse farm and livelihood was wadded up and crumbled by the storm in less than 30 seconds. She was forced by the storm to remove two horses she had lost, and also lost several other horses.
The owner of the BBQ restaurant was located a few farms away. He was woken up from his sleep in his bedroom, and then he was thrown down his hallway. He was knocked unconscious and woken by an Amish neighbour who begged for assistance for his family. His 2-year old daughter, who was 2 years old, was trapped beneath a crumbling wall. The Amish tend to care for their own ― to ask for help from an outsider communicated the seriousness of the moment. In this instant, people needed human beings. There was not enough time.
My father, along with other farmers nearby, mounted their tractors under a thick cloak of darkness. It was impossible to get in. Help from the outside couldn't get in. Ambulances or emergency crews couldn't reach the injured. My father was direct by his cousin. He and the other country folk cleared roads of wood with front loaders and personal equipment. Brawn and muscle were used to make it easier for emergency crews. Farmers and neighbors volunteered their safety to make it possible for others who needed help.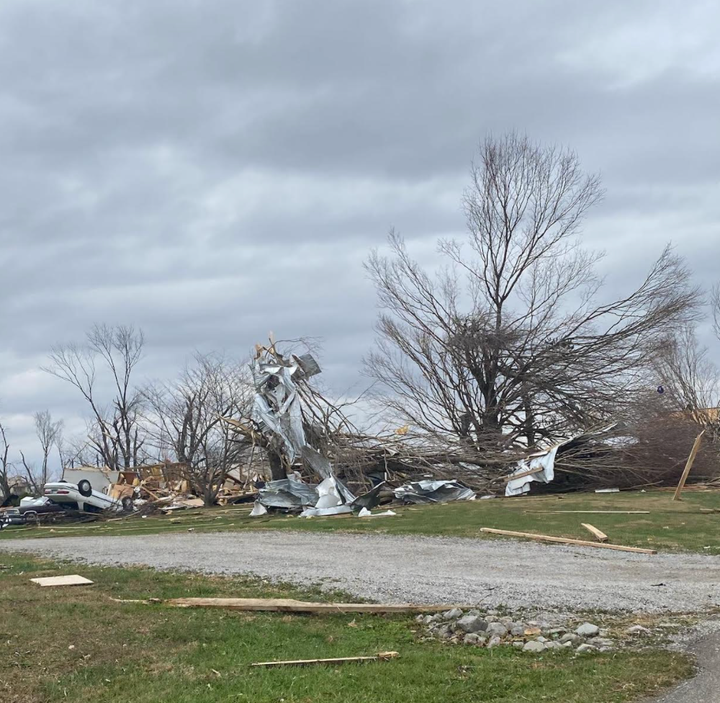 Rural areas such as ours, Christian County in Kentucky were hard hit by the collapse of farm operations. The lids of grain bins holding a season's worth of harvests were cracked open like canned goods, exposing the family's potential revenue to the elements. Protective machinery was protected by metal sheds. They were draped with tinsel, transforming them into ornaments for fencerows and downrooted oaks. The tops of the houses were opened like ripe fruits, exposing their rubble. The roadsides were littered with cotton candy-colored insulation, and mounds twisted lumber that looked like an abandoned game of Jenga. The roadsides were littered by the remains of livestock, which had been peacefully roaming in fields hours before. It was the combination of gray skies and naked plants that transformed our country into a dangerous war zone.
Many of the wildness and lawlessness that drew us to rural life felt like a huge debt. Each minute was important. In those moments, you were unable to determine your tax bracket or political or public health philosophy.
Before the storm, I'd felt like altruism had been lost in America. Collectively, we've been navigating our safety on our own for the past two years, a consequence of the pandemic. My community had to come together in the face of this crisis. As many people in western Kentucky, my rural community rallied together to help during times of need. And eight days later, we're united in our shared commitment to rebuild and restore what was once treasured.
Becky Giles Green, a writer and manager of a historical performing arts venue in her home town in western Kentucky is Becky Giles Green. She's currently working on a book of linked essays.
Do you have a compelling personal story you'd like to see publishedHuffPost? Find out what we're looking for here send us a pitch.
Share Your Comment Below