A Jan. 6 defendant who prosecutors say had a "front-row seat" to the deadly attack on the U.S. Capitol was sentenced to 60 days in prison on Monday.
Frank Scavo. pleaded guilty to a misdemeanor charge in SeptemberOn Jan. 6, about 200 passengers were transported by organized buses from their homes to Washington, D.C. The plea agreement contained a cooperation provision. Scavo gave over the videos he shot inside Capitol that day.
"He should have known better [than] to have entered the Capitol," Assistant U.S. Attorney Seth Meinero, a federal prosecutor, told Judge Royce Lamberth, saying that Scavo had a "front-row seat" to the chaos.
Scavo. Donald Trump supporter from Pennsylvania, spoke before his sentencing, saying his "small size" prevented him from seeing what was going on around him. He called Jan. 6 a "dark day" in the nation's history, and said he wanted to make amends for his actions that day.
Prosecutors, in their sentencing memoScavo published a political cartoon, according to Facebook that showed him driving a "Sedition Express" bus to D.C., and that he described himself in comments as a "Capitol tour guide."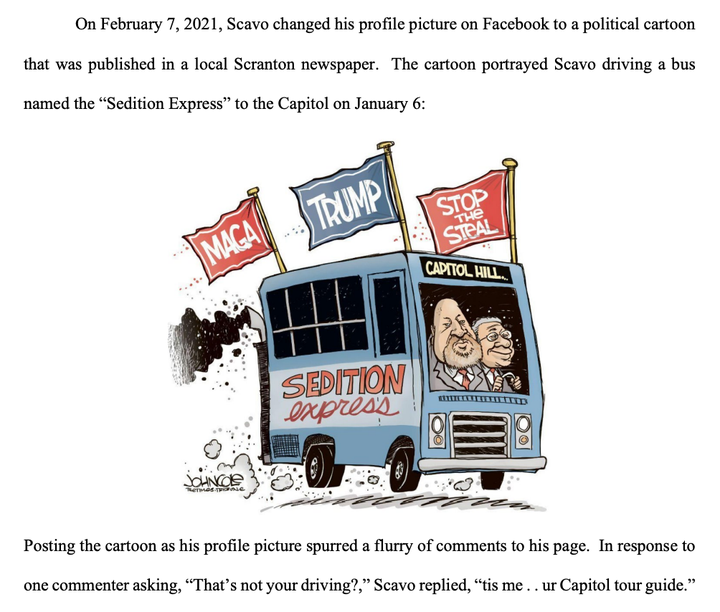 The federal authorities requested that Scavo be sentenced to 14 days in prison.
In connection to the Jan. 6, Capitol Attack, more than650 suspects were arrested by FBI. a quarterThis is the number of people who could be charged for their actions that day.
The FBI is still looking for more than 350 people who engaged in violence and haven't yet been arrested, including more than 250 members of the pro-Trump mob who assaulted members of law enforcement. Online sleuths in the "Sedition Hunters" community have identified a large number of violent rioters who haven't yet been charged.
Share Your Comment Below